Lindum proved to be a really supportive landlord, allowing me to negotiate new payment terms which compensated for the huge outlay we'd made on machinery.
Lincoln Laundry
A growing business which expanded into larger premises on the Lindum Business Park just as England was plunged into lockdown is hoping to be awash with new custom now restrictions are easing.
Lincoln Laundry offers commercial washing, drying and ironing, as well as linen hire, collection and delivery.
After eight years growing its customer base among Lincolnshire's hotel and leisure sectors, business owner Ahmed Hassan recently invested £250,000 in new premises.
The company moved into a unit on the Lindum Business Park in North Hykeham, which is five times bigger than its previous home on the Birchwood Shopping Centre. As part of the move, it bought £130,000 worth of new industrial laundry machinery.
But in March, just as Mr Hassan picked up the keys, Prime Minister Boris Johnson announced strict measures which forced businesses such as hotels, restaurants and pubs to close – effectively cutting off the majority of his custom.
The 33-year-old, who grew up in Lincoln, said at first, it felt like the timing could not have been worse.
"It was such a shock. Just as we were about to ramp up our business, our regular customers and our target customers pretty much shut their doors overnight," he said. "In all honesty, it could have been the end of us.
"However, as time passed, the Government's Furlough scheme proved to be a vital lifeline. I furloughed my team and kept their jobs open.
"Likewise Lindum proved to be a really supportive landlord, allowing me to negotiate new payment terms which compensated for the huge outlay we'd made on machinery.
"In the end, lockdown actually provided me with a bit of breathing space. We could get properly set up in our new home and take a step back to think about how the business would operate in future."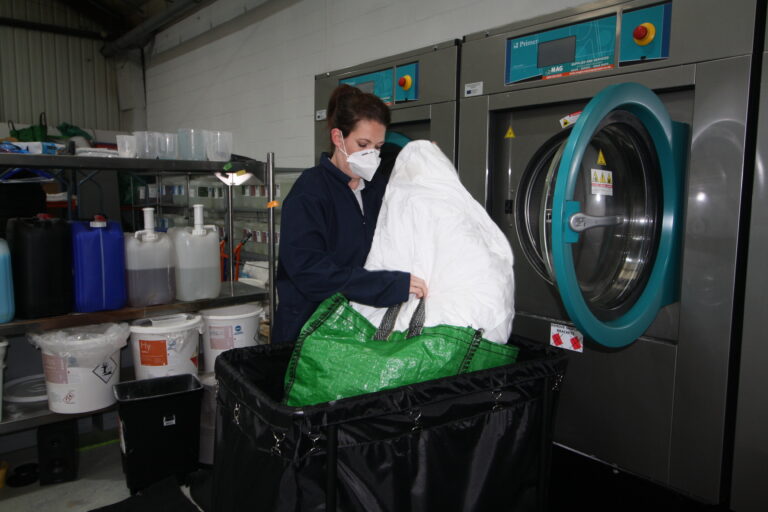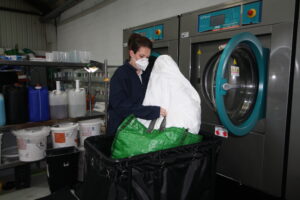 Lincoln Laundry began life 11 years ago as a small domestic laundrette. Over time, the business saw more and more contract work coming in from local hotels and restaurants.
Eventually it reached the point where if it was going to take advantage of the opportunities in this growing sector, it would need more space and more machinery.
Now, as life begins to get back to normal and pubs, restaurants and hotels start to reopen, Mr Hassan is looking to continue with his growth plans.
"We are up to about 70 per cent of what we were before lockdown, and are still awaiting a few clients back including wedding venues," he said.  "We offer a hire service, where we provide fresh linen every week. Customers can have their own dedicated stock, which means they know exactly what quality of linen they will be receiving," he said.
"All our linen is sourced in the UK and we offer an alternative to the larger laundry chains. We can service businesses as far away as Sherwood and Cleethorpes.
"We would like to focus on boutique hotels. We already work with Doddington Hall, Bishop Grosseteste University, the Old Palace and Lincoln City Football Club.
"The new space means we are competitive too – we can service over two tonnes of laundry a day."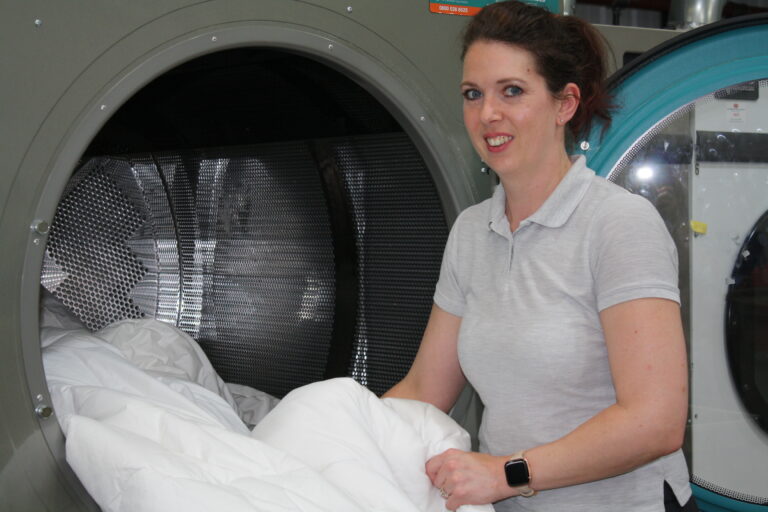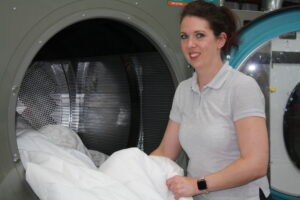 Mr Hassan employs 15 people.
"We have a really low staff turnover. It definitely feels like a family," he added. "We also feel very connected to Lincolnshire and I'm glad I've been able to invest in suitable new premises in the place I grew up. It's just down the road from Robert Pattinson School, where I studied.
"After school I attended Lincoln University and eventually got a job at M&S. I had a well-paid job in management there but I gave it all up to run the business. I can honestly say I've never looked back.
"I truly believe that in life, you get back what you put in and rolling with the punches is part of the fun. This has been a very enjoyable journey."
Looking for a new home for your business? Click here to see if Lindum can help you.
---