It was a real team effort, as we used our own builders, joiners and managers on the project and well as equipment from Lindum Plant. Waste from the site was handled by our recycling division at Saxilby and our roofing and cladding experts from KGM installed the roof decking and roof coverings.
Paul Jenkinson
| Contracts Manager
Lindum Group
The newly renamed Hub in Sleaford is ready to open following a year-long £1.2 million transformation by Lindum Group.
Previously known as the National Centre for Craft and Design, the Hub reopens to the public on Monday 17th of May.
It now offers a new and more accessible ground floor gallery area, performing arts and workshop spaces and re-focused community provision including for children.
Meanwhile its extended CaféBar is a place to meet and eat with doors connecting to al fresco terrace seating overlooking the River Slea. Its shop houses a larger collection of handmade craft products and gifts in support of local artists and increases the ability of the Hub to respond to community need.
A new chapter for the building has also begun, as one floor previously used for admin and office space is now let by contractors Lincs Inspire to local company MRI Software which has relocated there staying within the town and sustaining local jobs. The arrangement set out within the redevelopment supports Lincs Inspire as a not-for-profit charitable company to reinvest back into the service.
Representatives from North Kesteven District Council, architects LK2, Lindum Group which completed the work, and members of the Hub team came together for a Covid secure tour of the new facilities this week to see finishing touches being made.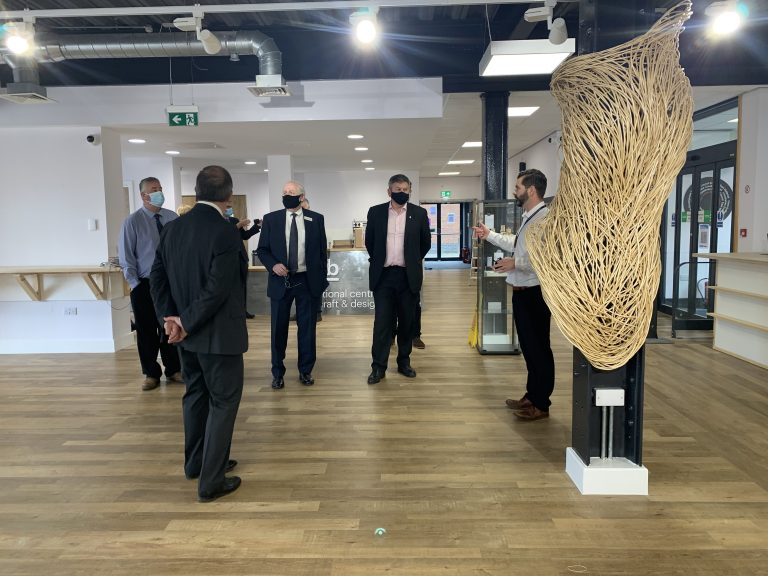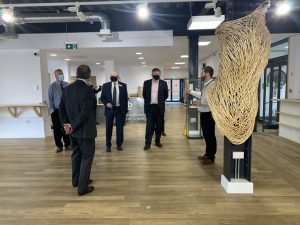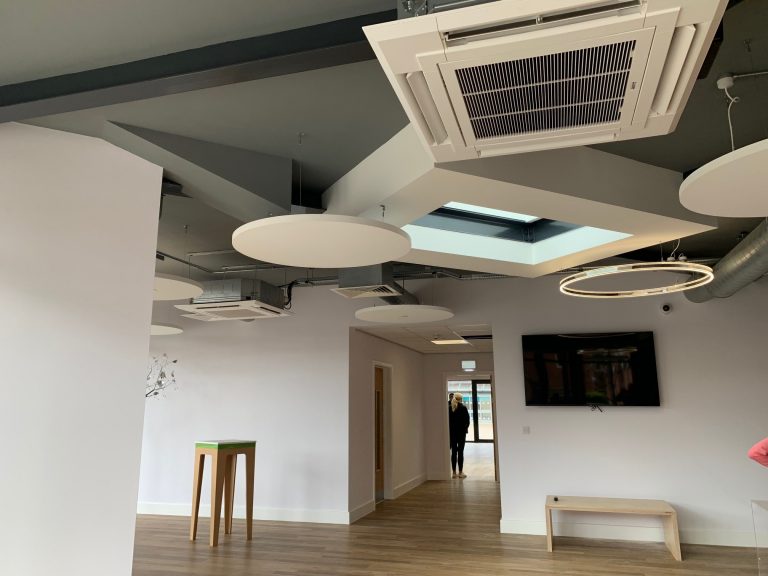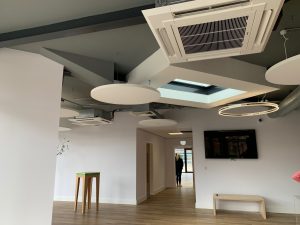 Leader of North Kesteven District Council Councillor Richard Wright said: "It's a wonderful moment to see the team preparing to welcome new and existing visitors and creatives to the Hub and its reshaped and improved offering, as Covid restrictions continue to ease and we slowly and cautiously get back to the things we've missed.
"Visitors will discover not only refurbished and more accessible facilities for a broader range of the arts and enjoyment for all, but a place that marries together the building's past heritage and present form with more pride than ever through its name.
"I'd like to thank everyone involved in the scheme, including the Hub team and the creatives whose works continue to breathe new life and push artistic boundaries from within the Hub's walls. I'd also like to thank all those in our District and beyond who've shown their support in the past, and who plan to do so by visiting now."
Lindum Group have carried out the works and the contract was procured via the Pagabo Medium Works framework.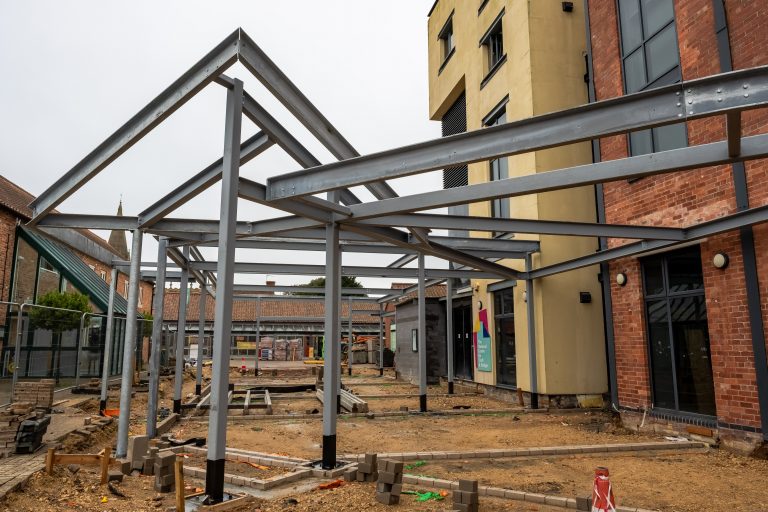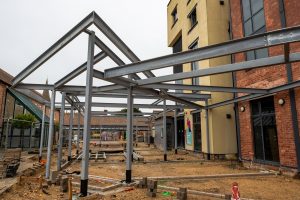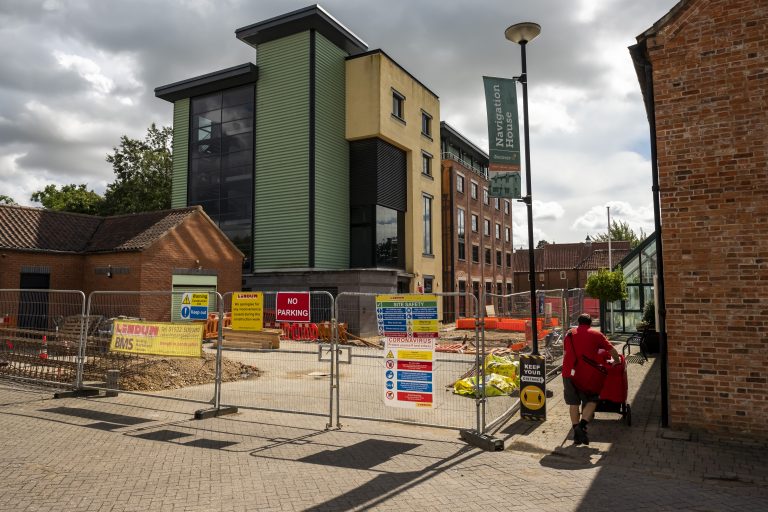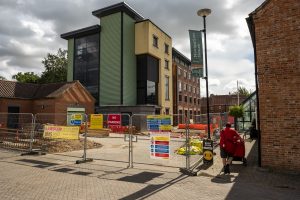 Contracts manager Paul Jenkinson said: "This has been a really interesting job to work on. At first, the programme was delayed because we discovered some unexpected services underground but then as Covid hit and the centre was forced to close, we were actually able to catch up and finish slightly ahead of schedule.
"It was a real Lindum team effort, as we used our own builders, joiners and managers on the project and well as equipment from Lindum Plant. Waste from the site was handled by our recycling division at Saxilby and our roofing and cladding experts from KGM installed the roof decking and roof coverings.
"The finished building is really light and airy and it's definitely somewhere I would like to come and visit in future. It's in a lovely location and it will be really nice to sit and have a drink in the café and riverside terrace over-looking the water."
The programme of work incorporates feedback from a pre-refurbishment consultation, resulting in more visually engaging installations, and live performances and more clubs and workshops to be developed as Covid restrictions ease.
Jonathan Parker, National Framework Manager at Pagabo, said: "It's fantastic to see yet another scheme reach completion after procurement through our Medium Works Framework. This is quickly becoming first choice for the public sector on all of their mid-sized construction projects which is testament to its flexibility and the quality of regional contractors available.
"Despite the obvious obstacles that the coronavirus pandemic has presented to the delivery team throughout this project, its excellent to see works finishing ahead of schedule and to such a high standard."
Visitors to the Hub and its exhibitions from May 17 are asked to abide by current Covid restrictions, as in any other indoor shop or public space, by maintaining good hand hygiene, wearing a face covering unless exempt and keeping to social distancing.
Visitors venturing back through its doors will be able to enjoy two exhibitions at the Hub: Jo Fairfax: Play and NCCD Art Club.
Jo Fairfax: Play is a must-see collection of installations by the multi-disciplinary artist, including a special new artwork 'Pea Run' marking the history of the Hub. It brings together art works exploring movement, sound, and place, and examples of public commissions.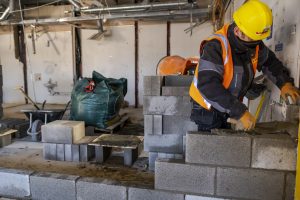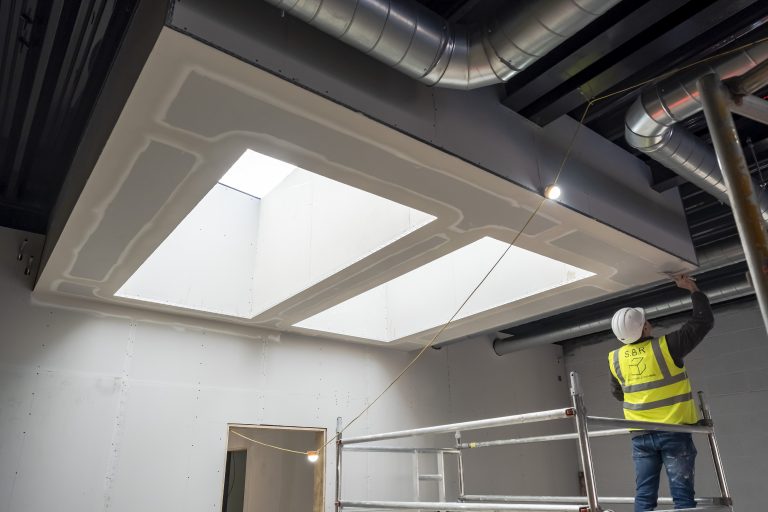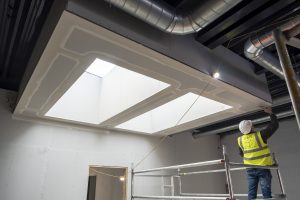 The Hub's new ground floor gallery space opens with NCCD Art Club. Shining a spotlight on the work that the Hub has delivered during lockdown, this exhibition celebrates how people have used creativity to respond, recover and look ahead to a new world.
The building's new name reflects on its origins as Hubbard and Phillips' seed warehouse and its previous name as The Hub, which many people have continued to use. It also recognises the building's status as a multi-arts centre hub for broader expression of arts and creativity beyond craft and design.
The Hub originally opened at Navigation Yard in 2003 as 'The Centre for Craft, Design and Making'; a £2.4m conversion of the old riverside warehouse, and taking over from the previous Pearoom at Heckington as the District's exhibition and creative space.
It re-branded in 2011 as the National Centre for Craft & Design in recognition of its national portfolio status and position hosting England's largest gallery space dedicated to craft and design.
A plaque inside the door saying 'This used to be a seed warehouse, it still is', marries the building's heritage as the hub of an early 20th century international seed trade operation with its purpose as a hub for creativity and artistic expression.
---