The money that has been raised will go a long way helping to support staff and their patients in these departments, so we are very grateful for their contribution.
Joe Fenton
| community fundraiser
The York Teaching Hospitals Charity
Lindum York has raised £500 for a charity which offers support to hospital patients across Yorkshire.
The money was donated to York Hospital in recognition of the care it is giving to a Lindum employee's family member.
Contract Manager Adrian Kelly chose to support the York Teaching Hospitals Charity as his wife June is currently undergoing treatment for kidney failure and cancer.
After collecting £500 during a St George's Day fundraising event at their office in Elvington, Adrian suggested the money should be donated to the hospital's Renal and Oncology units.
He said: "The care they have shown my wife and the support they have offered me during this difficult time has been incredible.
"We all know the NHS does a marvellous job but you really get see the impact first-hand when you have personal cause to call on its services.
"I hope this donation will go some way to thanking the incredible team in the Oncology and Renal units at York Hospital."
The team at Lindum regularly raises money for local Yorkshire charities and felt that, following the last year, they wanted to support the NHS this time.  They chose St George's Day as it seemed a fitting date to celebrate a national institution.
The office organised a Famous Georges Rainbow Raffle and entrants paid to pick a name from a list of 50 famous Georges. At the end of the day a winner was selected at random, and they won a picnic hamper. Proceeds from ticket sales were then donated to The York Teaching Hospitals Charity.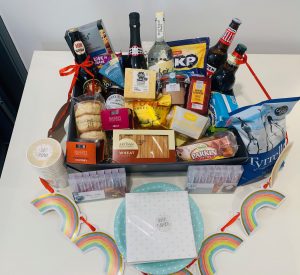 The charity funds 'extras' which help to improve healthcare facilities above and beyond the NHS services.  It supports staff in hospitals to make the hospital experience the best it can be for all who visit and stay there.
Donations can either be ring-fenced for specific departments or can go towards the charity's general funds.
The charity's community fundraiser, Joe Fenton, said: "We would like to say a massive thank you to everyone at Lindum for arranging the raffle, which has raised a fantastic amount for the Oncology and Renal units at York Hospital.
"The money that has been raised will go a long way helping to support staff and their patients in these departments, so we are very grateful for their contribution."
---